Dr. Mitchell Myers Joins Parkview Regional Hospital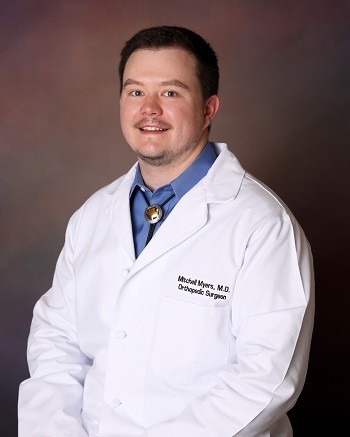 Fulltime Orthopedic Surgeon Comes to Mexia
Mexia, Texas (September 6, 2022) – Parkview Regional Hospital announced that Mitchell Myers, M.D., has joined its staff and will be offering orthopedic surgical services to patients in Mexia and the surrounding area. Dr. Myers has a strong background in general orthopedics, specializing in total joint replacement, sports medicine, knee, shoulder and hip surgery, arthritis and arthroscopic surgery. He will join Dr. Robert Launikitis, Orthopedic Surgeon in the Parkview Orthopedics and Sports Medicine practice.
"We are pleased to welcome Dr. Myers to Mexia to practice at Parkview Regional Hospital," said Dr. Jeff Comer, CEO of Parkview Regional Hospital. "Orthopedic surgery is a growing need in our community, and Dr. Myers' training at McGovern Medical School at the University of Texas Health Science Center at Houston and residency at Ochsner LSU Health Science Center at Shreveport have given him a great breadth of experience in a wide range of procedures that people in our region need. This expertise will be important as Parkview Regional Hospital works to make our community healthier."
Dr. Myers was raised in Waco where his family still resides. His goal was to return to Central Texas after residency to be close to his family which he accomplished by making Mexia his new home.
Dr. Myers now sees patients at Parkview Orthopedics and Sports Medicine Clinic, located at 514 S. Bonham Street. For a referral or to schedule an appointment, please call (254) 562-2069.
About Parkview Regional Hospital
Parkview Regional Hospital is a 58-bed acute care facility serving Limestone, Freestone, Hill, and Leon counties in Central Texas. It recently became a part of ScionHealth, a new company based in Louisville, Kentucky, that was formed in late 2021 following a transaction between LifePoint Health and Kindred Healthcare. Parkview was formerly a part of Brentwood, Tennessee-based LifePoint.
CONTACT:
Haley Burnett, Director of Marketing & Communications
Haley.Burnett@Lpnt.net
Read All Posts